Search our commercial real estate listings now quicker and more convenient than ever before based on the property type you are most interest in:
When you work with Gerspacher Real Estate Group, you get more than just one connection. You'll get access to an entire portfolio of buyers, sellers, tenants, landlords, government representatives, contractors, lawyers, title companies, consultants, and more in order to ensure your needs are met.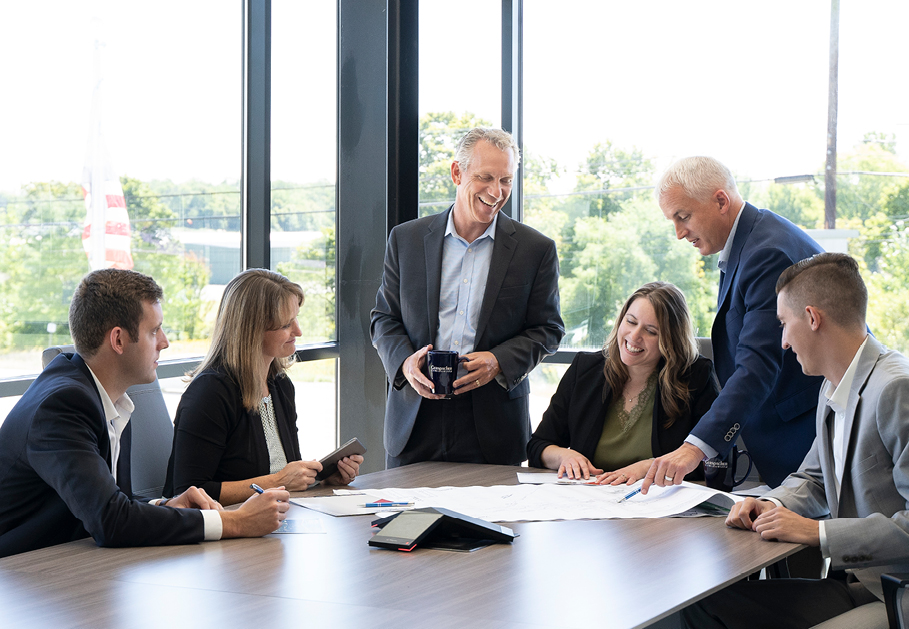 format_quote
Keith Keltner and the entire Gerspacher Real Estate Group did a fantastic job closing our Cleveland portfolio transaction. I highly recommend them to anyone looking for professional real estate services. In my opinion, they are the best in the business."
format_quote
Sam was excellent. He never gave up on us being able to get the lease signed. He was patient and understanding and somehow he was able to keep the deal going. It was a pleasure working with him. He truly is an asset to your organization!!"
format_quote
Emily and Keith spent months, days, evenings, countless emails, texts, and phone calls getting my sale completed. Could not have done it without them. And so very friendly!"
format_quote
Very helpful and tries to understand clients' hot buttons and goals"
format_quote
I tried obtaining a commercial real estate lease without representation and kept facing negotiation difficulties. Sheila was able to find the perfect location for my business. Then she stayed with it until the lease had been negotiated and even after to make sure I got into the place smoothly."
format_quote
This was our first venture in renting commercial real estate. Gerspacher had a solid reputation. I called and got Morgan Faunce. He was so very professional from the first meeting. We had confidence in Morgan and we signed an agreement. He never minded the questions or concerns that we had. In this tough commercial environment, he was able to get us a very qualified tenant. We are very happy with the terms of our lease."
format_quote
My company had a great experience with the Gerspacher Group! Our property search was complex and after a year of searching, we found nothing. Katie was able to find a prior inactive listing for a property and within days we were in discussions with the owner. They facilitated a complex web of needs for the transition and helped both sides achieve a great outcome. Highly recommended!"
format_quote
Loved my realtors (Kaite Kirby & Keith Keltner), nothing but great things to say!"
format_quote
I enjoyed my entire process working with Emily. I remember stumbling across the perfect location for starting my own practice and immediately calling Emily. She met me that same evening to give me a tour and we talked the entire time. Throughout the process, Emily was patient, transparent, kind, and accommodating. Her whole aura screams best friend energy. I was so lucky to work with her and can't wait to invite her to our grand opening when that time comes. Thank you Emily!"
format_quote
We have partnered with Gerspacher several times over the past years and have always received the highest quality, trouble-free service from the agents. Gerspacher is the best around for knowledge of the local real estate market."
format_quote
Sam Tecca did an amazing job helping my company to find office space. He took the time to understand my company's needs and helped to find a space that worked out perfectly for us. My wife has worked with Sam in the past and he once again was top-notch. I would highly recommend Sam to any company."
format_quote
Couldn't have asked or expected greater care from Agent, Emily Faust!"
format_quote
Keith went above and beyond what was asked of him. He looked for numerous places for me over months and months and finally found the perfect place for my business!"
format_quote
I felt like Sam really listened to what we wanted and showed us appropriate options. He ended up finding the office that was just perfect for us!"
format_quote
Gerspacher was the ideal partner for our real estate needs. They were attentive, compassionate, and flexible to support my organization each step of our journey. My expectations were well exceeded, and I feel confident in considering them my exclusive real estate partner should needs arise in the future. Thank you Morgan, Emily, and the entire team!"
format_quote
Emily Faust was the rep I worked with. I'm the manager of a small business with a location in Medina, and we had a very diverse set of needs. Emily's patience was unmatched- she answered every question, showed up to every showing with enthusiasm, and was a trusted voice when it was time to make a decision. I would recommend her and Gerspacher to anyone!"
format_quote
Excellent personal service. The Gerspacher team is very tuned to the market and makes the transaction process seamless and easy. Troy and team handle all of our real estate needs professionally and flawlessly."
format_quote
Awesome real estate guys. Helped me find a great off-market deal and have been easy to work with."
format_quote
Keith is honest, dependable, and trustworthy. He puts his client's financial interests first."
format_quote
Emily was great to work with! She was well-informed, responded to questions quickly, and kept everyone involved on time and task."
format_quote
I wanted to say that working with Emily Faust was all the way around a wonderful experience. She was there for me day or night if I had any questions or concerns. She also walked me through the process of helping me purchase my first business. Can't say enough good things. GREAT EXPERIENCE!"
format_quote
Gerspacher Real Estate Group is Awesome!!! I was able to get my property from start to finish without any problem. Yeah!!!"
format_quote
I came across Keith because we were looking for a place for my business. Although he was working for the owner, he made me feel like he had my best interest in mind as well. I'm happy I worked with this company to get my first retail location. I highly recommend them if you're looking for a home for your business. They will get the job done. Also, Keith didn't make you feel like he was selling something. He made you feel like he was trying to accommodate you. Some of the best customer service I've experienced."
format_quote
We have had dealings with 3 previous property management organizations over the last 13 years and none of them have come even close to the professionalism, integrity, and service that Gerspacher Group has provided us. We would heartily recommend them to anyone seeking a professional property management group."
format_quote
Tremendous experience. The low tandem of Troy G and Keith K were phenomenal and worked at our tempo, they were very knowledgable and were very accessible."