"We have used Gerspacher Real Estate Group for many years. No matter who we work with, we always have a great experience. This last property was listed with Morgan and Sam and they did a phenomenal job finding the perfect tenant to fit the property. I highly recommend Gerspacher Real Estate Group. They pay attention to detail and are very knowledgeable, professional and they work hard from beginning to end. We recommend this company to anyone looking to buy, sell or lease."
Jill Ritchie, Business Owner, 901 Lafayette Rd., Medina, OH 44256
"Sam, and the others, were very accommodating to all of our needs."
James Fike, Vice President, 411 W. Exchange St. Akron, OH 44302
"Sam and Tony were wonderful to work with! They were very enthusiastic and positive, put together a great ad and photos, and transferred that enthusiasm and positivity to the client. The first client they showed was the client who signed. They had great ideas and were available every step of the way through the process. Very professional, and I enjoyed working with them! I highly recommend them!"
Marlene and Rob Shurell, Owners, 3280/3282 Old Weymouth Road, Medina, Ohio 44256
"We received very professional and prompt help during our property transaction purchase. I would definitely work with this company in the future. (Highly recommended)!"
Mark Haury, Owner- Mobilesite Mechanical Piping Inc.
"Aside from basic knowledge relative to our transaction, Troy was thorough, thoughtful, & timely. He was thorough in making sure every document was produced for our review. He was thoughtful in understanding that we, too, are very busy. And he was timely in getting documents to us far enough in advance for review & execution. His follow-through was helpful as well. He worked well not only with us as a client but with our legal counsel and the selected title company. Our transaction, relative to Troy's efforts, was smooth and uneventful. As a unit of government, we strive to be good stewards of the tax payer's resources. Troy helped us meet that goal."
Skip Sipos, Executive Director; Medina Metropolitan Housing Authority
"Effective, efficient and tenacious."
John Rotticci, Director of Real Estate, Universal Forest Products
"Sam's attention to detail is refreshing, Thank you !!"
David Renner
"Working with Morgan was top notch. His knowledge of the market, insight & advice was invaluable to finding and getting our deal done."
Ryan Wunderle, President, 655 North Court Street, Medina, Ohio 44256
"Morgan made our settlement smooth and seamless, I appreciate his attention to detail"
Todd Snook, President – Valley Storage Co.
"From the moment I started working with Troy it was like we had grown up together and knew each other since we were in elementary school."
Randy Monahan, President INEVERII
"The Gerspacher team offers a higher level of commitment and a personal touch that other agencies just can't match. They are proactive, trust-worthy and always make you feel like a priority."
John Moulagiannis, Owner, Paragram
"Morgan and Sam have both been a pleasure to work with. They are both very attentive and get the answers I need quickly. The most important thing at the end of the day is getting across the finish line, and they help facilitate that to happen."
Craig S., President
"Tony went above and beyond to help out with the sale of my business and building. I so appreciated his help!"
Ruth Ann Poder, President
"We received very professional and prompt help during our property transaction purchase. I would definitely work with this company in the future. (Highly recommended)."
Mark Haury, Owner – Mobilesite Mechanical Piping, Inc.
"Very accommodating."
Debbie Doubler, President Commonwealth Diversified
"Fast, efficient and pleasant. What else do you need?!"
James Adams, CEO
"I am a trustee for a family trust that owned a building in Brunswick leased to Sherwin Williams. With my co-trustee we hired Troy Gerspacher of Gerspacher Real Estate Group to list this property for sale. I worked closely with Troy on the sale and found him to be very knowledgeable, gracious, expeditious, helpful and insightful. Being that I represent a trust with numerous beneficiaries, there was no shortage of drama, which Troy handled affably and professionally. Once a purchase agreement had been signed, Troy was invaluable in helping both us and the buyer gather information and documents needed to close the sale. I also enjoyed the excellent staff at Gerspacher Real Estate Group and their crucial support in assisting with the sale by providing dependable research and statistics with regard to our listing and the current market. Troy Gerspacher and Gerspacher Realty were a pleasure to work with and I highly recommend them."
Diane Stricker, Jean D Matteo Trust
"I worked with Sam Tecca & Morgan Faunce through my search for the perfect location to start my business. Sam was great, he listened to my needs and found me many properties to view. He found me the perfect suite and location! I have been working with Morgan on property management and paperwork and he has been wonderful. He's responsive, gets me the answers I need and he's very professional and friendly. Sam, Morgan and the entire Gerspacher team make me feel like they are on my side and want to help me and my business become a success. Thank you!"
Angie Munn, Owner of Purposeful Play
"My husband and I were looking for an office space for our growing business. The agent we worked with was Sam Tecca. We told him our needs and within a few days he helped us find our new space that had everything we were looking for. It is important to listen to what your client needs are and he did just that. He was very attentive and easy to work with!"
Owner of SistaSista Lifestyle & Beauty
"Troy was excellent to work with while we were looking for office space in the Medina area!"
Victoria Tifft, Entrepreneur In Residence at Bounce Innovation Hub
"We needed a space for our non profit to continue to grow, and Morgan helped us find the perfect spot! He was very professional, super fun and I was very impressed that he takes the time to personally get to know the tenants in our building! He was full of information and SO patient with my oodles of questions! We had an incredible experience and we signed our lease yesterday!!! We will absolutely be recommending your services to friends, and have already sent a few your way!"
Heather Knapik, Knapik's Knapsacks at 124 Lafayette Road, Medina, OH
"Troy was very professional, honest and knowledgeable."
Muni Polavaram, President, SNP Management, LLC.
"BJCB needed to act quickly to find a new suite and Michelle Masica delivered! Thank you!"
Bellefaire JCB, Medina, Ohio
"Morgan did a wonderful job. Professional and quick to help with all of our questions."
Julie Oldfield, Manager, DS Benefits Groups
"Troy made it smooth and easy!"
Richard Bonitz, President, Richard-Thomas LTD.
"Troy knew our needs and went into the market and found exactly what our companies needed. He was knowledgeable, professional and precise. We are clients for life!"
Matthew Soful, CFO 2659 Center Road, Hinckley, Ohio
"Morgan did a great job throughout the process."
Dennis Neate, Partner, 654-656 East Smith Road, Medina
"Morgan is a true professional and did an outstanding job!"
Robert Walt, Owner, 249 Lafayette Road, Medina
"Communication from Morgan was awesome!"
Sherry Gregory, Owner/President 2-10 Exchange Park Drive, Medina, Ohio
"Morgan was very responsive to questions and communications. I will be in contact for our future business growth needs!"
Dan Meyer, Owner at SGT Detail
"You guys are great to work with!"
Melissa Kelly, Office Manager at Sharon Commons
"We worked with Troy Gerspacher and Debra Kaplan on the purchase of a floor in an office condo. They both were so professional, informational and helpful in the process. I would highly recommend Gerspacher Group!"
Debbie & Al Scofield, Property Owner, 822 Kumho Dr., Fairlawn, Ohio 44333
"The Gerspacher Real Estate Group helped me sell 158.2644 acres on Weymouth Road at the intersection of I-71 and Route 3 and they are very pleasant to work with. Keep maintaining your good standard!"
Albert Calderon, General Partner of Calderon Properties
"Morgan and Troy take care of all your needs when it comes to leasing your property"
James Schembri, Property Owner
"The Masicas communication and execution was top notch. We are very glad to have our building leased."
Andreas Gross, Property Owner
"Troy is awesome. He always answered his phone or called back right away. He never made you feel stupid when you had a "silly" question. He made buying our first practice easy and fun. Thanks Troy!"
Scott Malarkey, Busniess Manager
"The attention given to your clients is phenomenal and over the top!"
Robert E Brazier, Vice President at Garcia Surveyors
"Troy is always professional and dilligent. I feel I am in good hands with Gersapcher Real Estate Group."
Sam Haddad, Member
"Working with both Jim & Morgan to secure a property for our business, I felt they worked equally as hard for us as they did for the Building Owner in securing an equitable agreement."
Bruce Gold, President of Solutions in Polycarconate, LLC
"I was very pleased with how my intrests were handled by Troy"
Mark James, former Property Owner
"Troy is a true professional! We can't wait to do another deal with Gerspacher as soon as possible."
Chris Kondik, President and Property Owner
"Morgan is a trustworthy representative of my property. He speaks honestly about the marketplace and what our opportunities for success are. He is good to work with and prompt in answering all my emails."
James Schembri – Property Owner
"Steve has done a wonderful job bringing us good tenants over the years. We love working with Steve!"
Barb Wright, Vice President at PJC Storage, LLC
"The staff is always very professional, on time and very attentive"
Nobby Lewandowski – Managing Member
"Morgan was very helpful! He was always on top of things and always available. His follow-up has been great!"
Hildy Navratil – Property Owner
"I would highly recommend Steve (Masica). He offered excellent advice and customer service. Steve's follow-up was great and he made sure I had what I needed."
Peter Borberly, Owner of Luxury Window Films
"Troy Gerspacher is the best in customer service that I have experienced. His follow-up was far beyond my expectations and I would use Gerspacher Real Estate without question in the future"
Joel Stile, President of Louis Stile Construction
"Jim was a pleasure to work with. He offered professional advice and insight when needed, and worked on Saturday to finalize the deal. Jim was responsive to messages and emails, was great with follow-up, and was there when needed. He introduced me to the Medina County EDC and helped guide me toward getting a tax abatement for my project."
Doug Williams, President of Securitec One
"Given our distance from the Medina County/Greater Cleveland area, we felt it made sense to select a firm with expertise in that market. After an extensive search, we chose Gerspacher Real Estate Group to represent us in the sale of our building. Their commercial real estate leadership in that market, combined with their ability to market nationally, made them a logical choice over a larger, national brokerage firm."
Travis C., Undisclosed National Bank, 416-432 Pearl Road Commons, Brunswick, OH
"It was my pleasure to do business with Gerspacher Real Estate. They identified my needs and assisted me in finding the perfect location for my new business."
Jennifer Brumfield, Owner of Finding Your Idenity, 124 Lafayette Road, Medina, OH
"Troy Gerspacher is a solid professional."
Bill Boyer, President of First North Corp., Howe Road Land in Strongsville, OH
"Jim is one of the best, if not the best real estate agent we have ever worked with. We were referred to Jim by a former real estate agent and long time friend of ours. We thought with the Gerspacher name and good reputation in Medina and surrounding areas, they were the one and only way to go. They certainly did not disappoint."
Rosemarie Kurtz & Joan Sheplin, Owners 546 Medina Road
[Michelle and Steve Masica] "Very professional. Always prompt answering any concerns. I highly recommend to others."
Beverly A. Berry, Owner & Broker, 213 Wooster Street, Lodi, OH
"After leasing many warehouse locations over the past 20 years, I would say my experience with Steve Masica would rank right at the top. Easy to respond and the process was very smooth. I would use Steve or Gerspacher Real Estate Group again without reservations. I wish all my dealings were as trouble free. I am sure the facility will exceed expectations."
Tim Lark, Vice President of Production, Ultimate Home Services, LLC
"I have sought Morgan's help on several occasions in the past. No mater how much time would pass, whenever I would contct him for assistance, it was like reconnecting with an old friend. Now, as a neighbor, I couldn't be happier with the entire Gerspacher Real Estate Group!"
Shellie Graf, Owner of Elegant Essentials
"A pleasure to work with Morgan. He made himself available at all times. He spent a considerable amount of time marketing this building and we were well satisfied with his efforts."
John Grimm, Former Owner of 927 Lake Road, Medina, OH
"Troy Gespacher has the unique ability to command superior service in an unsettled real estate environment."
John Dicesare, Former Owner of 1994 Pearl Road
"Steve followed up with me to remind me and verify all steps taken to complete the purchase and expectations. It was appreciated. We have already referred two people to Gerspacher Real Estate Group."
Sandra Manarchik, Vice President of Safety Auto Glass, Brunswick OH
"Troy went above and beyond the sale of property. He was patient and used many marketing plans for the sale. I am very grateful he stayed with me until the sale was finalized."
Nancy Jane Tetzlaff, Successor Trustee
"Jim, and then Troy, patiently spent literally years helping me rent my first office and then find my first commercial property to purchase; they helped me think through every step of this journey. They are both throw-back men who simply are the best at their trade, crafting solutions, and generously providing services that are right for you … not their transaction optimization. Can't say enough good about them and Gerspacher Real Estate Group."
Frank Griffith, CEO, GHI Internet Services, Reserve Commons, Medina, OH
"I give the highest recommendation to Gerspacher Real Estate. Everyone I came in contact with was knowledgeable, friendly, and ready to help me find the property that met my vision. Thank you so much!"
Whitney Harris, Huth & Harris Wine Merchants, 221 South Court Street
"My husband and I have found Gerspacher Real Estate Group to be experts in the field, offering sound advice in today's historically changed marketplace."
Michelle Cloonan, Owner, 7903 Wadsworth Road, Medina, OH
"Troy Gerspacher and the entire group of employees of the Gerspacher Real Estate Group have made our experience with purchasing a commercial property both easy and pleasant. We are so pleased that they were there to assist us in our purchase. They have hard-working individuals throughout the company who assist the seller and the buyer. We highly recommend the Gerspacher Real Estate Group to all."
David C. Kulka and Deborah L. Kulka, Owners, Quality Collision Center, Inc., 1191 Pearl Road, Brunswick, OH
"I knew Jim would be excellent… the reason that I selected him as my realtor to sell my commercial property. My experience with Jim Gerspacher was very favorable. He kept good communication throughout the marketing and processing of the escrow. His attending to detail was exceptional and professional."
Julie Palmquist Sedgwick, 2,4,5 Public Square, Medina, OH
"I've been acquainted with the Gerspacher Agency for over thirty years and worked with now the third generation in the Gerspacher family. All truly top notch real estate professionals."
Ed Bugner, Bugner and Associates, 5000 Gateway Drive, Medina, OH
"The crew at Gerspacher's gets the job done with outstanding results."
Rob Rapp, President, Homestead Insurance, 1324 Pearl Road, Brunswick, OH
"Unlike most commercial realtors I work with in the land development business, Troy has a comprehensive understanding of the painstaking process to take a raw piece of land and develop it into a successful commercial venture."
David Lewis, PE, Civil Engineer, President, Lewis Land Professionals, 8691 Wadsworth Road
"Gerspacher Real Estate has an excellent agent in Morgan Faunce. He is professional and showed my property right away after he took over the management of the property."
Sharon Zhou, VT Property, Owner of Riverside Center, 3691-3721 Pearl Road, Medina, OH
"I highly recommend Troy Gerspacher to spearhead your real estate activity. He was professional, prompt, business-like, and took the time to understand my needs. He was results oriented without applying any pressure tactics to get a deal done."
E. B Gonzales, Owner, Pilot Signs & Designs
"Troy provides honest, friendly, and timely advice on property rental. His suggestions provide the lessor with ways to make the property more appealing to prospects."
James Schembri, Owner, 3045-3065 Nationwide Parkway, Brunswick, OH
"Troy quickly went to the right people at City Hall to get the ball rolling on the property split. He and the buyer made it happen. Good job."
Vincent Palladino, Owner, 777 West Smith Road, Medina, OH
"Gerspacher Real Estate helped me locate and secure office space that met my needs in less than three weeks during the busy holiday season."
Laura Boske, President, Secured Monitoring Systems
"Gerspacher Real Estate Group brought high quality clients to our leased spaces. The lessees are always prompt in paying rent and are easy to work with."
Jim O'Brien, General Manager, Ebner Furnaces, Inc.
"Michelle was awesome to work with. She was extremely professional, positive and upbeat! I felt like I was working with a friend. I would highly recommend her."
A. J. Neely, Owner of Jazzercise Fitness Center, 134 College Street, Wadsworth OH
"Morgan – fair and looked out for my best interest. Great asset to your team!"
Erin Baka, Owner, Homegrown Ohio, LLC, 45 Public Square, Suite 3
"I had the pleasure to deal with Troy Gerspacher. Top notch real estate group. Despite the soft market, Troy did not give up on selling/leasing my place. He is very professional and honest. It was delightful to have him."
Samia Gohara, Owner, 3 East Main Street, Seville
"Gerspacher Real Estate Group could not have been easier to work with. Everything went off without a hitch. Thank you!"
Chad Wilson, President, Rapid Marketplace, 780 East Smith Road, Medina
"Jim Gerspacher was a true advocate for me throughout the buying process. He undoubtedly saved me substantial time and money serving as a trusted advisor and agent."
Kevin Kroskey, Owner, True Wealth Design
"As usual, Morgan (Faunce) did a good job."
David LeHotan, Property Owner, 4018-4083 North Jefferson Street, Medina
"Troy, at Gerspacher Realty, took the time and cared enough about me and my business, where he actually advise me not to purchase commercial, costing him a large commission, and found a suitable pace to lease. I thought I wanted/needed to purchase, but after spending considerable time with me to better understand our business situation, he advised against it and he was right. Troy does business right. I trust him and thank him for doing what was right for me and not him. A rare experience in today's business culture! Thank you Troy."
Frank Griffith, CEO, Griffith Holdings
"It was great working with Michelle. It took a while to rent the space because it was an upstairs location, but she kept at it and got us a renter for a 3-year period. Great job!"
William Eggers, Property Manager, 116 West Washington Street
"Morgan was a pleasure to work with during the process. He ws always prompt in returning calls and emails, and answered all of our questions."
Gina DeMarco, Cookie and Gilley Frozen Yogurt & Treats
"Gerspacher Real Estate Group is a pleasure to work with. Their knowledge and expertise of the business in the area make it very easy on clients like myself. I would definitely recommend calling them."
Barbara Faciana
"With a complicated project like Castle Noel, just the right building and location had to be found. Jim Gerspacher worked over two years, showing us dozens of buildings. He was very instrumental in not only helping us find the right location, but also played a key role in executing a successful deal. There is a reason you see Gerspacher Real Estate signs on such a large portion of available real estate….. that reason is Jim Gerspacher."
Mark and Dana Klaus, Castle Noel
"Michelle has always exceeded our expectations. She continually brings creative solutions to any roadblocks we've ever encountered. Michelle is AHMP's "go-to" girl for all our real estate needs!"
Gwen Ingram, The Visiting Nurse Practitioner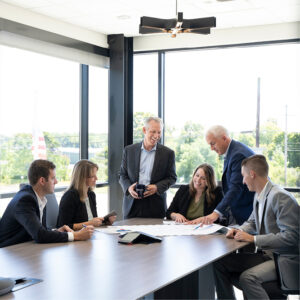 WE WANT TO HEAR FROM YOU
Testimonials from buyers, sellers, landlords and tenants provide valuable information and feedback about our agency.
Our years of experience in commercial real estate and our dedicated agents make us a wise choice for your commercial real estate needs. Read below how others have benefited from our highly qualified team of agents!
Are you a past client, or industry contact that has worked with Gerspacher Real Estate Group in the past? If so, please share your positive experience with us on Google Reviews!